How Dental Veneers can Change Your Smile
Would you like a brilliant smile free of unsightly gaps, chips and discolouration?
Veneers offer a solution. A dental veneer is a thin layer of porcelain or composite material made to fit over the front surface of a tooth, like a false fingernail fits over a nail. They are held in place by a very strong bond – similar to super glue.
Veneers are used to:
Improve the shape, colour and position of your teeth
Repair minor tooth damage such as chipping
The Willows Dental Practice offers dental veneers in Hereford from £460 per tooth.
Benefits of Dental Veneers
Healthy and Natural Looking Teeth
Veneers dramatically improve the appearance of your teeth. The shade of veneers is precisely matched to the rest of your teeth, solving smile spoiling discoloured teeth that won't improve by scale and polish or teeth whitening. Dental veneers are also used to close those annoying small gaps between your teeth when orthodontic braces aren't appropriate. Furthermore, veneers are the best and least invasive way to repair chipped teeth. The result is a healthy, natural looking smile that inspires confidence – don't let that discoloured or out of position tooth ruin your smile!
The Least Invasive Tooth Restoration
Unlike dental crowns, teeth do not need to be reduced to a stump to have veneers fitted. Only a tiny amount of tooth enamel is removed so the resulting tooth is the right size and to provide a good bonding surface for the veneer. Some veneers need no tooth preparation at all. This makes dental veneers the least invasive tooth restoration around.
Long Lasting
Due to improved cements and bonding agents, veneers typically last 10-30 years. Veneers can become chipped or damaged just like your own teeth. However if the damage is minor they can usually be repaired, avoiding the need for a replacement.
Results of Veneers – Before and After
See the results of dental veneer placement for yourself:
Gaps Between Teeth
Discoloured Tooth
Chipped Teeth
How are Veneers Placed?
Veneer placement typically happens over the course of 3 appointments.
Initial Consultation

A friendly consultation with Dr Tulacz to discuss your options.

Tooth Preparation

About 1mm will be trimmed from the surface of the tooth to accommodate the veneer. An impression and shade is then taken and sent to the laboratory.

Temporary veneers are not necessary because the preparation is so slight – your tooth will feel slightly less smooth.

Crown Placement

2 weeks after the preparation the final veneer is bonded in place. Before bonding it in place, we'll show you the veneer on your tooth to make sure you are happy with it.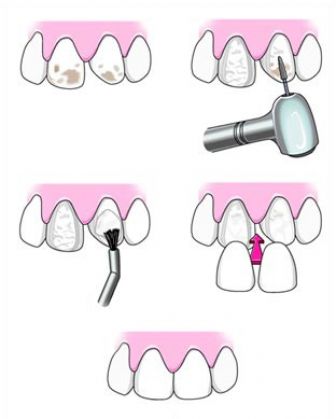 Veneers: The Process
Dental Veneers Prices
Veneers cost £460 – £999 per tooth depending on materials used. All options are discussed.
Alternatives to Veneers
White Fillings
A natural-coloured filling may be used for minor repairs to front teeth. Excellent if the tooth supports a filling, but might not work so well for broken tooth corners.
Dental Crowns
In cases where the tooth is heavily broken down and needs strength and protection, dental crowns offer a solid alternative with similar cosmetic results and price.