Restore Volume to your Face with Dermal Fillers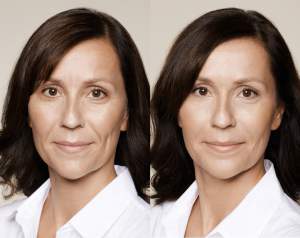 Would you like to look more attractive with a face and lips?
This can all be achieved quickly and safely with a simple injection. This injection replenishes your natural reserves of hyaluronic acid – restoring structure to your facial skin – reducing the appearance of defects such as wrinkles. An ultra-fine needle is used for maximal precision and minimal pain. The results can be seen immediately and are not permanent, lasting up to a year.
Dermal fillers are used to:
Minimise fine lines and wrinkles
Reduce the appearance of scars
Fill in overly thin areas of your face
Enhance the appearance and fullness of lips
Dr Chris Tulacz possesses an aesthetic eye and expertise with injectables, preferring natural looking results that are flattering rather than an obvious overfilled look. Here at Willows we use Juvederm dermal fillers in Hereford.
What are lip fillers?
Lip fillers is a cosmetic procedure, using dermal fillers, that give you fuller and plumper lips. We use a sophisticated lip filler (Juvaderm), performed with surgical precision by our highly trained dentists. This is a highly popular cosmetic procedure and has had consideable media attention.
Benefits of Dermal Fillers
A fuller more attractive face
Fill out overly thin areas of your face as well as wrinkles and scars. This is targeted so to improve facial symmetry, making you look younger and more attractive.
Long Lasting Results Immediately
Results are achieved instantly with a simple injection, and last more than a year.
Very Safe – No Knife Required
This is a very low risk treatment. It does not require surgery and the results are not permanent. If you don't like the results they can be reversed with an injection of Hyaluronidase – this will breakdown the filler.
Dermal Fillers FAQ
How do Dermal Fillers Work?
Hyaluronic acid is a substance that occurs naturally in the body and helps to create volume beneath facial skin, along with collagen, elastin and fat cells. As we age our natural reserves of hyaluronic acid break down but fillers can be used for restoring the lost facial volume, reducing and smoothing lines and wrinkles.
The effects of just a small touch of additional volume provided by hyaluronic acid fillers can make quite a dramatic difference to your appearance, leaving you looking instantly fresher and younger.
Who is Suitable for Dermal Fillers?
Since hyaluronic acid is naturally occuring in the body, dermal fillers are safe to use on anyone. No allergy testing required.
How Often will I need Dermal Fillers?
The effects of hyaluronic acid fillers can last in excess of a year, although this varies from patient to patient. The body will eventually break down and absorb the hyaluronic acid over time and without leaving a trace.
It's important to remember that the treatment is not permanent so there's no risk of being stuck with a look you may not be happy with in years to come.
Do you offer lip fillers in Hereford?
We certainly do! Our practice is located in Hereford city centre and we offer a wide range of lip filler services. Lip fillers are the perfect way to add extra volume to your lips, a very popular treatment nowadays.
Dermal fillers vs. Botox. Which is better?
Botox will relax targeted muscles where the product is placed – often the forehead lines and crows feet, whereas dermal fillers will replace volume that has been lost due to the natural ageing process.
So Botox treats dynamic lines – i.e. when you are moving your muscles and fillers treat static lines, when your face is relaxed and volume loss.
They can be used very successfully in combination. For example, when you have a deep forehead furrow. Initially you would have Botox to relax the movement in that area and then 2 weeks later, (as Botox takes this long to reach full effectiveness) you could have fillers to put the volume back and plump out any static line/s that remained.
The other difference with Botox and fillers is that Botox lasts well to 4 months and is usually more or less gone by 6 months but good dermal fillers last more than a year.
How Long Will Recovery Take?
There's no down time whatsoever – you can return to work right after. There may be some minor redness, swelling or bruising, but this is easily hidden with makeup.
Price of Dermal Fillers
Dermal Fillers cost £220 per syringe. You will need 1-3 syringes depending on how much work you want done.
Dermal fillers also work synergistically with Botox. We offer Botox from £170 – for more information on Botox click here.