Teeth Whitening for a Brighter Smile
Interested in looking your best with a brighter smile?
Teeth can become stained and discoloured by:
smoking
poor hygiene
drinking red wine, coffee or tea.
To remedy this, we offer a professional teeth whitening service to the residents of Hereford and the Herefordshire area.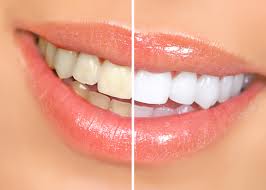 What are the Benefits?
Look and Feel more Attractive
A striking white smile will convey confidence to both yourself and others. Your social life will benefit immensely.
Remove Stains Quickly and Effectively
Teeth whitening is a great way to undo stains due to smoking, food and drink. The benefits are accomplished with one appointment and can be further enhanced with take home whitening kits.
Safely Carried out by a Dentist
Our teeth whitening system is safely carried out by one of our expert dentists, since it uses a bleaching agent (peroxide) to remove stains.
Example of our Work
Teeth Whitening FAQ
How is Teeth Whitening Performed?
Achieved in only one appointment, teeth whitening involves the following procedure:
Initial Preparation – Initial preparations are made by taking the current shade of your teeth and carefully constructing custom whitening trays from teeth impressions or moulds.
Teeth Whitening – Whilst your gums are protected by a special covering, whitening gel is applied to your teeth via the trays. Teeth become shades whiter very quickly.
Aftercare – The shade of your teeth will be taken again for comparison. We'll also give you a take home whitening kit to enhance the results. You should not smoke or drink red wine, coffee or tea during the teeth whitening process and for some time after.
How does it Work?
A gel containing the bleaching agent carbamide peroxide will be applied to your teeth during the tooth whitening procedure. This chemical will oxidise any stain particles – removing them.
Your gums will be protected during application with a covering. Any irritation usually lasts only a few hours.
The Results Last How Long?
From 3 months to a few years depending on the person. The results will last longer if you avoid smoking and drinking red wine, coffee or tea. The results can also be augmented using the take home whitening kits.
Is Teeth Whitening Safe?
Teeth whitening is generally regarded as a very safe treatment. However, it should be carried out by a dental professional to ensure safety since the chemicals used may aggravate pre-existing conditions such as gum disease.
Does it work on False Teeth?
No. Tooth whitening won't work on crowns, veneers, fillings or dentures.
Price of Teeth Whitening
Our whitening system at Willows is £349 .