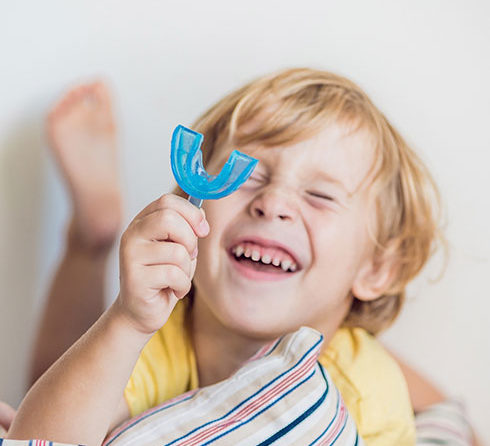 It can be alarming to discover that your child is grinding his or her teeth at night. Parents usually first discover the problem from the sound of grinding coming from their child's room.
However, is teeth grinding in chidren something you should be worried about? In this post, we'll answer this question, and we'll also tell you what to do if you child is grinding her teeth.
Should I be worried that my child is grinding his teeth?
Generally, teeth grinding in kids is not usually something to be worried about. Most children who grind their teeth won't be affected by it. In fact, teeth grinding is even considered to be normal in children under eleven.
That said, there are some cases when teeth grinding shouldn't be ignored. Your child should see a dentist or a doctor if your child:
has tooth pain
has trouble sleeping
had teeth that are getting worn down
In these cases, it's a good idea to seek professional help. Your dentist or doctor will investigate the issue and find out the cause.
The main danger of teeth grinding is that it wears down the enamel, which is the outer layer of teeth. Enamel protects the other layers from plaque and bacteria. When teeth grinding goes on for a long time, the enamel can wear down, making tooth decay more likely. It can also affect the appearance of teeth, making them look flat and misshapen.
Why do some children grind their teeth at night and others don't?
We don't know why children grind their teeth. It's thought that the immaturity of the neuromuscular system could be the cause. The neuromuscular system controls chewing, and it may be that this system sometimes misfires when children are sleeping.
It's also known that teeth grinding is linked with sleep apnoea as well as stress. Children who are under stress are more likely to grind their teeth.
What should I do if my child is grinding her teeth?
As mentioned, teeth grinding in children usually isn't serious. The problem often goes away on its own when children enter their teens.
If you are concerned, then do mention the problem to your child's dentist. The dentist will be able to tell you if the grinding is serious or not.
In the case that the grinding is serious, your dentist will probably ask you to make sure that your child wears a mouthguard at night. This mouthguard will protect their teeth from further grinding.
One case when you might want to see a GP is if your child has signs of sleep apnoea as well as grinding. It's been shown that teeth grinding and sleep apnoea often go hand in hand. So if your child has signs of sleep apnoea, then do visit your GP, as a GP can refer your child to an ear, nose and throat specialist for further investigation.
Finally, teeth grinding is also more common in children under stress. If you think stress is causing the grinding, then it's a good idea to try to address the sources of it.
Conclusion
Teeth grinding in children is fairly common and usually nothing to worry about. Furthermore, most children grow out of it by the time they reach their teens. That said, it's worth mentioning the grinding to your child's dentist, just to be on the safe side.
Leave a reply