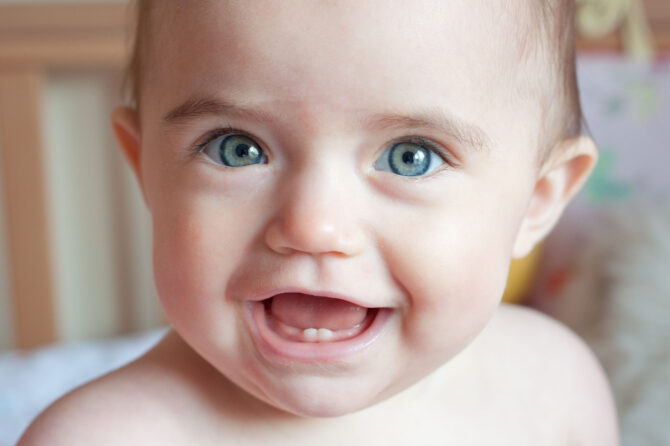 You may wonder: When is it best to start brushing your baby's teeth with toothpaste?
Your instincts are right to start dental care as soon as your baby has teeth. This will help establish healthy routines for your child's dental care early on but it is important to start gently.
In this post, we'll go over how to look after a baby's teeth.
Just water first
Before your baby develops teeth, you can still start practising good oral health habits on their gums. You won't use a toothbrush or toothpaste yet – just clean water and a piece of clean, soft gauze.
Follow these easy steps:
Wrap the gauze around a clean finger and dip it in water.
Gently rub the gauze along your baby's gums to remove bacteria. Daily is ideal.
If your baby starts eating solid foods before developing teeth, do this gauzed-finger and water procedure after each meal, wherever possible.
That first tooth!
What a milestone! Your baby's first tooth.
As soon as that first tooth arrives, your baby is ready for real brushing to keep away plaque.
Start with a specific fluoridated baby toothpaste.
Get a toothbrush with extra soft bristles, made especially for babies' mouths.
Gently brush twice a day using a very small sliver of toothpaste. (Keep in mind that your baby won't be able to spit out the waste.)
Schedule an appointment for your baby to meet their dentist!
By using a baby toothbrush as soon as teeth appear, you'll begin getting your child used to the feeling of having a brush in the mouth. If you can make the experience fun for them, your child will learn that brushing can be a pleasant experience and nothing to fear.
Fluoride and toothpaste
When you start brushing your baby's teeth with fluoride toothpaste, you may be conscious of avoiding dental fluorosis. This is when a young child ingests too much fluoride before their adult teeth arrive. This can cause white or brown discolouration or spots on permanent teeth enamel.
We all know fluoride is essential in preventing tooth decay, which can start early. Here are some tips for toothpaste:
Use only a little: Use only a tiny amount of fluoride toothpaste – the size of a grain of rice.
Check the age: Ensure your baby's toothpaste is free of artificial colours, preservatives, or sodium lauryl sulphate.
Flavour: Most young children don't enjoy strong flavours.
Use water: Naturally, your baby can't yet rinse or spit out toothpaste. So, after brushing, give your baby a drink of water.
Capture the memories: The time goes so fast! Take some pictures of every stage of maintaining your child's beautiful little smile and then, at age three and older, you can document your child brushing their teeth!
By caring for your baby's mouth early on, you'll begin setting them up for a lifetime of positive oral health habits.
Leave a reply